Mosaic Sheets
Wall or Floor Mosaic Tiles, that look beautiful in the Kitchen, Bathroom, wetroom , even in your hallway.
Sale!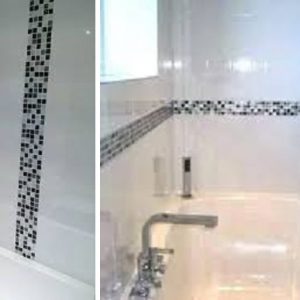 Lagos Nero Glass & Marble Mosaic 30x30cm
Sold and priced by the sheet
(There are 11.1111 sheets per sqm)
Glass & Marble – 1.5×1.5cm pieces on a 30x30cm Mosaic Sheet
A mosaic sheet is easily cut into strips to create borders that can be very cost effective.
Example
1 sheet would achieve 0.9 linear metres for a border 6 rows deep or 1.8 linear metres if 3 rows deep.
An average bathroom requires around 8 linear metres to have a border all the way around. If using a border of 3 rows you would only require 5 sheets.
LIMITED STOCK AVAILABLE
&pound4.50 each