Hard-Wearing Indoor-Outdoor Tiles
If you're aiming to improve the look of your garden or outdoor space, there's no better way than outdoor porcelain paving floor tiles. These porcelain outdoor tiles are created with durability and safety in mind, perfect for use outdoors thanks to their impermeable design. Create a seamless flow between your indoor living space and outdoor space, whether you're creating a large patio area or a small seating area, our complete collection of indoor-outdoor porcelain tiles are sure to have something to fit the unique style and feel of your home. Contact us or visit our showroom for more details.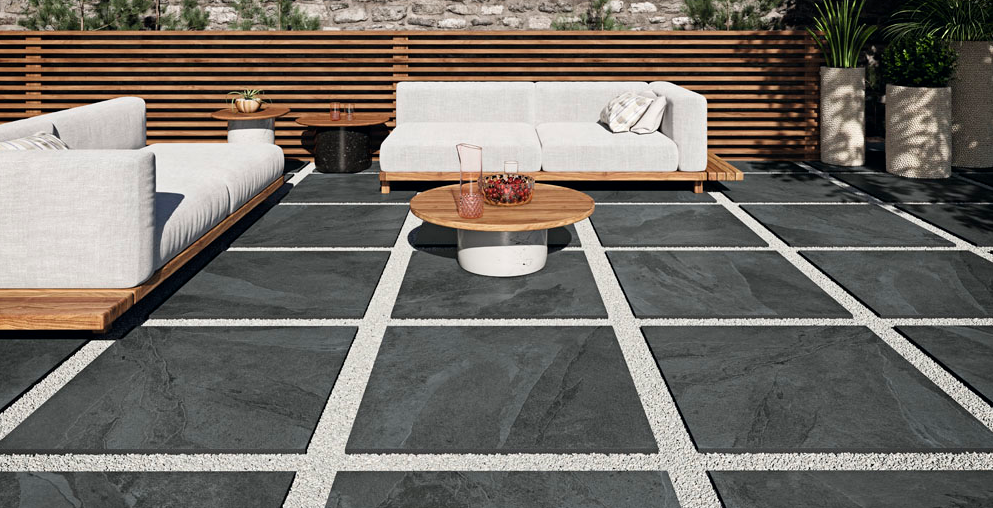 1CM Thick Anti-Slip Outdoor Tiles
2CM Thick Outdoor Paving Tiles
Why Porcelain Tiles are Great for Use Outdoors
When looking for tiles that are suitable for use both indoors and outdoors, you're only option is going to be porcelain tiles and with good reason. Thanks to the way in which porcelain tiles are created, porcelain tiles are less porous than ceramic and other types of tiles, meaning they don't absorb as much water. This is why you'll often find porcelain tiles used within rooms and areas of high moisture. In order for a tile to be bestowed the title of 'porcelain tile', it must pass rigorous testing and by definition must have a water absorption rate of less than 0.5%.
We stock a wide range of indoor-outdoor tiles, from 2CM thick porcelain pavers to 1CM thick anti-slip outdoor tiles, we've got something for everyone, regardless of the style and look you're going for. Unlike natural stone paving tiles or concrete slabs that are often used for paving patios and outdoor areas, porcelain outdoor tiles are super easy to clean and maintain, as well as being a much more modern-looking alternative.
It's worth mentioning that just because porcelain tiles are recommended for outdoor use, that doesn't mean any and all porcelain tiles will be suitable for use outdoors. Generally, the thickness of your porcelain tiles isn't an issue when being used outdoors as long as it's solid bed fixed, in order to be used outdoors your tiles must be anti-slip and have an R11 rating. If you're not sure whether a tile is suitable for your intended use while browsing, just get in touch with our team who will be happy to help with any questions you may have.
Stone Effect Outdoor Tiles
Outdoor tiles don't have to look like your standard concrete floor slabs, that's the beauty of porcelain outdoor tiles. Whether you're looking for a seamless modern flow between a reception area and your outdoor entrance space in a commercial setting or you'd like stone effect outdoor tiles to suit the design of your garden and outdoor area at home. We've got a range of stone effect outdoor tiles suitable for use in both indoor and outdoor settings.
Wood Effect Outdoor Tiles
Wood effect outdoor tiles provide the beauty and elegance of wooden flooring along with the resilience and strength of an outdoor tile. Great for use throughout your garden and outdoor areas. Provide simple access to a decked area of the garden while matching the look and feel of your existing outdoor area and wooden garden furniture. Wood effect outdoor tiles are also great for use in commercial settings, creating a modern feel to outdoor seating areas and more.
Benefits of Indoor-Outdoor Tiles
There are a wide range of benefits to indoor-outdoor tiles beside the obvious benefit of them being usable both indoors and outdoors in order to create a seamless transition between your indoor and outdoor areas.
Strong & Hard-Wearing Option: Porcelain outdoor tiles are extremely strong and hard-wearing meaning they're able to withstand heavy foot traffic for many years to come.
Frost-Resistant: Thanks to their non-porous design, porcelain tiles are extremely resilient to frost damage and cracking in cold weather as they don't absorb water.
Scratch-Resistant: Porcelain outdoor tiles are tough and more resistant to scratches and everyday wear and tear.
Slip Resistant: We stock a range of outdoor anti-slip tiles perfect for use providing slip resistance in heavy traffic outdoor areas.
Low-Maintenance: Unlike concrete paving stone and natural stone tiles, outdoor paving porcelain slabs are easily cleaned and don't require constant resealing and maintenance.
Modern Alternative: Outdoor porcelain tiles are a great modern-looking alternative to your standard concrete slab finish, with stone effect and wood effect tiles suitable for outdoor use.