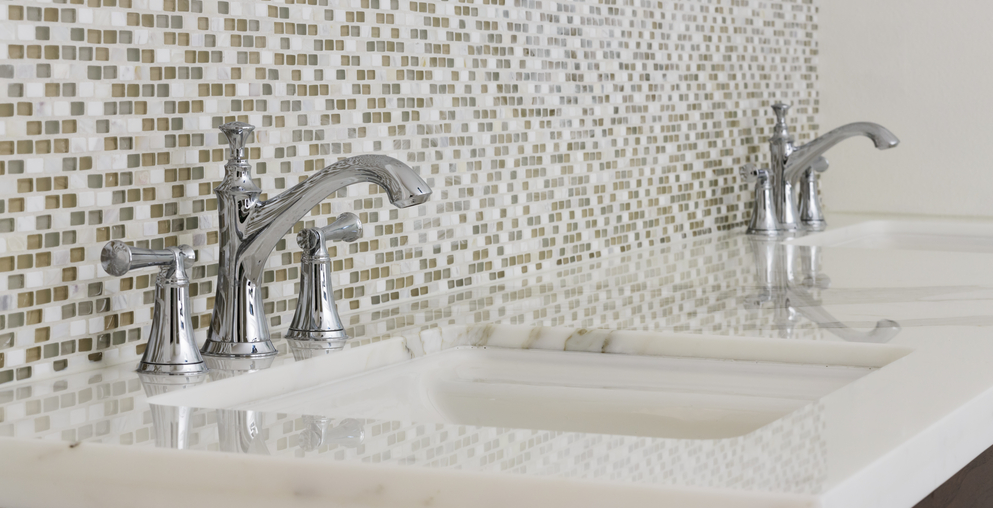 Gorgeous Mosaic Tiles for your Home
We stock and supply a wide range of gorgeous, quality mosaic tiles that're sure to make any room in your house stand out. Offering stylish and contemporary covering for your walls and floors, mosaic tiles are a great way to create an eye-catching feature within your home. From simple, yet elegant porcelain mosaic tiles for your bathroom to beautiful glass & marble mosaic mixed tiles, all from as little as £2.94 per tile.

Browse Our Range of Mosaic Tiles

Why You Should Consider Mosaic Tiles
Mosaic tiles are the perfect choice for the walls and floors around your home thanks to their sheer versatility. They're the perfect choice for use as wall or floor coverings, as they're designed to withstand general day-to-day wear and tear.
As one of the easiest ways to add a splash of colour to your room mosaic tiles can be used across a whole room to brighten it up or for a subtle drop of colour within one area of your room. Not only do mosaic tiles offer a luxury splash of colour to your home, but as they're also available in a range of different materials, shapes and styles, there's sure to be a mosaic tile for just about any room of the house.
Glass Mosaic Tiles
Glass mosaic tiles are available in a range of styles, from transparent glass mosaic tiles to mirrored mosaic tiles. This wide range of styles and options makes glass mosaic tiles a perfect choice for back-splash surfaces thanks to their excellent ability to withstand stains and moisture.
Marble Mosaic Tiles
Marble mosaic tiles will add a feeling of luxury and elegance to any room of your house without the hassle and maintenance that usually comes with marble products. Marble mosaic tiles offer a diverse selection of options, with various sizes, shapes and colours to choose from. Your home will never have looked so good!

Browse Our Marble Mosaic Tiles

Matt Finish Mosaic Tiles
Over the last few years wood effect wall tiles have grown in popularity to create a more natural feeling room when combined with wood flooring, all with the striking beauty wood effect wall tiles have to offer. We stock a range of different wood effect wall tiles in various colours and styles.

Browse Our Matt Finish Mosaic Tiles

Mixed Mosaic Tiles
Mixed mosaic tiles offer all the benefits of mosaic tiles in a range of styles and designs. By combining multiple materials and colours within one mosaic tile, these tiles are sure to create a feature wall that will catch the eye of any visitors. We stock a range of glass, metal and stone mixed mosaic tiles from as little as £2.94.
Benefits Of Mosaic Tiles for your Home
Mosaic tiles can be costly, especially when compared to wallpaper or simple ceramic tiles. However, they do offer a range of benefits that make them a better choice for your home than wallpaper or carpets. Mosaic tiles add a feeling of elegance to any room of the house.
Simple to Clean & Maintain: Mosaic tiles are much easier to clean than carpets and wallpaper, often allowing you to simply wipe up and spills and marks. Not only are they easier to clean, but they're also less prone to stains and major marks.
Highly Durable: Mosaic tiles are highly durable and are made to the highest quality to ensure they're capable of sustaining foot traffic and any potential accidents that may happen.
Elegant & Good Looking: Not only are mosaic tiles a great option for their ease of cleaning and durability, but they're also beautiful when displayed throughout your home, adding a touch of elegance and luxury to just about any room.
Highly Versatile Option: Mosaic tiles are available in a wide rage of designs, styles and colours allowing you to mix and match tiles to create a personally unique feeling to your room.
Water-Resistant: Like most other tiles, mosaic tiles are a great choice for use in areas of the home that see higher levels of moisture.
Frequently Asked Questions (FAQs)
Do you need to seal mosaic tiles?
Mosaic tiles do need to be sealed using a product that not only helps to seal them but also helps to protect the tile surface and grout line.
How to protect outdoor mosaic tiles?
In order to protect mosaic tiles that you may have outdoors, simply apply two coats of tile and stone-floor sealer in order to keep the tiles protected.